How is APD differentiated from Learning Disabilities, Language Disorders, and ADHD?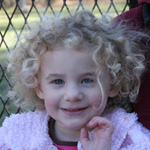 Because many symptoms of APD overlap with other disorders, it is possible that your child was previously misdiagnosed with ADD (Attention Deficit Disorder), ADHD (Attention Deficit Hyperactivity Disorder), PDD (Pervasive Developmental Delay), or a receptive language disorder. Or, your child may have one of these disorders or delays in addition to APD. All of these disorders share common characteristics and are often interrelated. For example, individuals with ADHD may be poor listeners and have trouble understanding and remembering spoken information, but it is the attention deficit that is impeding their ability to use the auditory information coming in, not the processing of it in the brain.
Children with ADHD tend to exhibit inattention, distractibility, and hyperactivity in any environment, whereas children with APD usually don't have difficulty focusing and paying attention in quiet environments.  However, studies suggest that 50% of children diagnosed with ADHD may also have APD.  Auditory Processing Center offers Auditory Attention Deficit Testing to help distinguish ADHD from APD.
Comparison of Behaviors Demonstrated with ADHD vs. APD by Frequency of Occurrence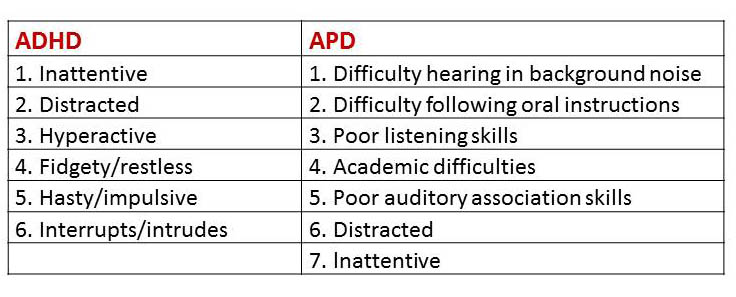 APD is an auditory deficit in the higher auditory pathways in the central nervous system that is not the result of other higher order cognitive, language, or related disorders. It is differentiated from other disorders when the deficit occurs primarily on challenging tasks involving the sense of hearing.